---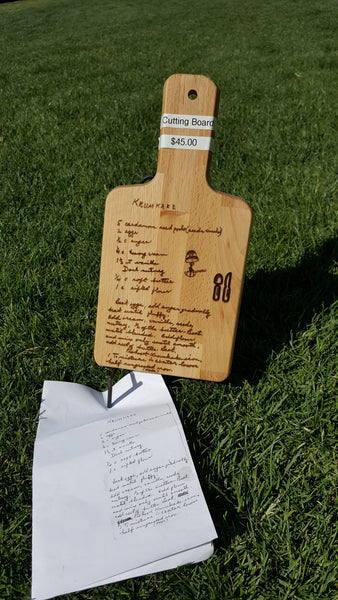 This product will be personalized as you tell us through picture(s) and or the wording you have entered when you purchase this wonderful personalized product.  You will received a proof, please remember your email. Note Picture(s) are sent email to orders@photogiftsbyss.com. Printed pictures are sent by mail. Email for the address and instructions.
Are you the lucky owner of Grandma's Sugar Cookie Recipe still written in her handwriting? Are you the only one with Mom's famous meatloaf recipe written by her. Take that treasure and let us engrave it on a wooden cutting board in that precious handwriting. Share with family members,  give them a treasure that will last forever. Make yourself a permanent copy of that memory and proudly display it, something you can't do with the original.
This is a time consuming tedious process that produces a one of a kind heirloom, a laser engraved wooden cutting board using your special person's handwriting. We can do all handwriting assuming that it is legible.  We tediously clean up the document as best as possible before the engraving process commences that produces a one of kind special cutting board.
For this you will need to send the original document to us, email us at orders@photogiftsbyss.com for instructions. This product usually ships in 5 to 7 days after the proof is approved.